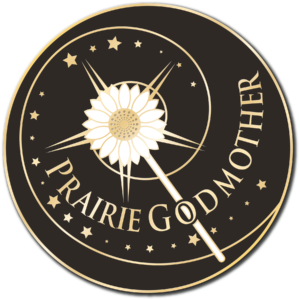 Once upon a time, not so very long ago, in a far away land called Barton County . . . Womenof all ages, backgrounds, and economic standings came together to impact the lives of others.
The Prairie Godmother Funds provide grants to improve the health and well-being of Barton County women by addressing critical needs not met by other community resources. The concept is simple: Women Helping Women.

How It Works
Generous donations to the Prairie Godmother Funds will help establish a permanent endowment, grantmaking fund, and small administrative fund. The endowed fund will allow donations to be held in perpetuity for the long-term needs of Barton County women, while the grantmaking fund will address immediate needs.
Grant applications will be accepted from our partner agencies, who will help identify the short-term, critical needs that the Prairie Godmother Funds are intended to address. The Advisory Board will review completed applications. Grants will be made in a matter of days and will be paid directly to the vendors of the requested service or need.

Want to become a Prairie Godmother ?   Email: gbcf@goldenbeltcf.org
The Advisory Board 
Traci Burns
Melanie Calcara
Sheryl Cheely
Linda Marmie
Rachel Mawhirter
Krista Smith
Our Partner Agencies
Barton County Emergency Aid Council
Barton County Health Department
Catholic Charities of Southwest Kansas
Central Kansas Dream Center
ElderCare Inc.
Family Crisis Center
Heart of Kansas Family Healthcare
The Center for Counseling & Consultation